Multi head CNC router has multi spindles. A multi head CNC router usually adopts 2 to 4 spindles and each spindle carries a cutting tool. The external cylinder controls the movement of the spindles, and the spindles work in turn to process the work pieces. Multi head CNC router is like a simple ATC CNC router. It automatically switches cutters by changing its spindles. The multi spindles can realize seamless switching during the machining process. After a spindle finishes its work, it moves to the beam and the next spindle starts to work at the same time. Multi head CNC router changes cutters by changing spindles. In this way, multiple processes can be completed on one machine. It greatly improves the processing efficiency. Multi head CNC router can process cabinets, wardrobes, beds, doors and shows higher efficiency and precision than ordinary CNC router that only adopts one spindle. It can also perform woodworking artwork carving, which is not possible to finish with an ordinary wood CNC router. Moreover, the machine integrates various processes into one process. It greatly avoids the bumps and damage to the work pieces caused by multiple manual loading and unloading processes. In addition, with the redundant spindles adopted, even if one spindle is broken, the machine can continue to work.
Applications of Multi Head CNC Router
The multi head CNC router is mainly used in the furniture making such as cabinets, doors, beds, wardrobes, etc. For small and middle-scale enterprises who engage in wooden furniture processing, ATC CNC router may break their budget plans, so they need to find a cheaper alternative to auto tool change. In this situation, multi head CNC router is a cost-effective choice. This machine is affordable and suitable to process simple furniture like solid wood doors, cabinets, sliding doors, etc.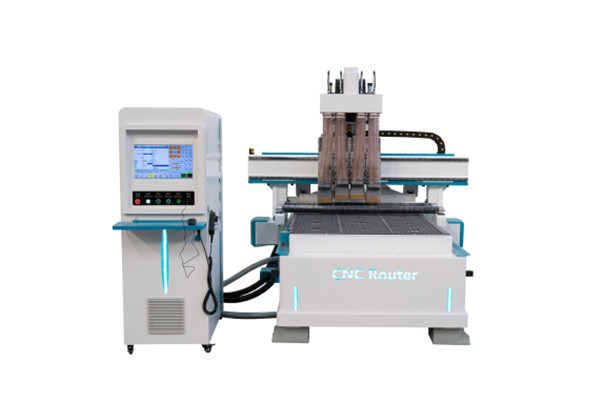 ---
Post time: Jul-19-2021